Why Wear Batting Gloves?
Increased grip and control on wood or metal bats
Reduced vibration in the hands upon contact
Hand protection during base running and slides
Help prevent blisters and caused by repetitive hitting
Some players wear under their fielding glove for added padding/grip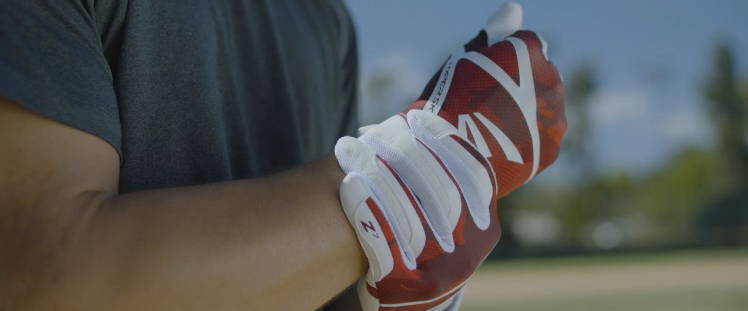 Measuring Your Hands for Batting Gloves
Whether you're buying new batting gloves in-store or online, knowing the proper way to measure your hands is essential to finding a pair of batting gloves that fit perfectly. Below we have provided the steps to measuring your hands in the efforts to make finding the right sized batting gloves a little easier.
Place your dominant hand palm side up on a flat surface, with you fingers straight and firmly pressed together.
Using a tape measure or ruler, measure from the base of your palm to the tip of your middle finger.
Using the measurement you got from measuring your hands in step 2, determine your batting glove size by comparing that measurement to the sizes in the size chart above.
Once you have your ideal size figured out, it is time to try on some batting gloves. You'll want to make sure that the gloves are not too tight and restrict hand movements in any way. They should

be

form fitting to your hand, but not to the point where you can't move your hand and fingers like normal.
Advanced Batting Glove Considerations
Baseball and softball players hit a lot during practice and games, so it is important to find a pair of batting gloves that will last through lots of wear and tear.
Padding: Helps reduce vibration and sting when making contact with a pitch
Material: Batting gloves made with higher quality material are likely to be more durable
Tack/Grip: The more tack/grip on the palm of the batting gloves, the more control you can get when swinging the bat
Long/Short Cuff: While most batting gloves have a short cuff that goes around the wrist right up to the bottom of the hand, long cuffs that go part way down the wrist are becoming more popular; this is completely personal preference, but can be something to consider